Posts Tagged 'Doris Robinson'
 Still missing and unaccounted- $150,000 stolen from the City of Rusk, Texas (pop. 5200)
Rusk, Texas:
The trial of Doris Robinson, the Rusk, TX Water Department clerk and wife of Jacksonville, TX councilman Hubert Robinson, was reported by the local media as going to jury selection on October 14, 2008. The trial was slated for the next day in the 369th District Court, according to the same local media. The original indictment/investigation had been postponed for over a year. Where is the missing money?
(Source: Jacksonville Daily Progress, September 11, 2008)
"She faces one count of tampering with a government record and one count of theft of property by a public servant in an amount over $100,000 but less than $200,000," said District Attorney Elmer Beckworth. "The crime is elevated due to her position as a public servant. The theft charge she faces is a first-degree felony."
"[Doris] Robinson was indicted by a grand jury Feb. 25 and has since pleaded not guilty at her arraignment hearing. She is being represented at trial by attorney John Green. The trial will be held in the 369th District Court in Rusk, with Judge Bascom Bentley III presiding."
According to the front page of the Rusk, Texas newspaper published prior to jury selection, Mrs. Hubert Robinson's lawyers contend their client was "not a thief" and the City of Rusk accounting procedures was to blame for the missing $150,000.
(Source: Cherokeean Herald, September 10, 2008)
"Mrs. Robinson is represented by Houston attorney John Green.
Mr. Green described Mrs. Robinson as a "good lady, not a thief. She is honest, law abiding and scared to death. The stress is almost unbearable to her."
Mr. Green continued in saying, "There was a long period of time when the books were not reconciled. I don't know if they can prove there was money missing. Since then they have gone to new controls (a new bookkeeping system). She got a raw deal. No one saw her taking the money. The evidence is on her side.
"We will be prepared to pick a jury. But, we are trying to settle this thing out of court. I think it will be best for everyone. If not, we will go to trial or get a continuance," Mr. Green said.
Well, apparently the missing money may still go 'UNACCOUNTED', even though the 'independent' Palestine based Texas Rangers audited the City of Rusk, TX at the request of Cherokee County prosecutors. Where is the missing money?
(Source: Cherokeean Herald, September 10, 2008)
"Early on in the investigation, Texas Ranger Rudy Flores was asked to participate in the inquiry. The time frame was narrowed to a two-year period spanning from 2004- 06. An independent, forensic audit was performed at the request of District Attorney Elmer Beckworth. "
Pct. 1 Councilman Hubert Robinson did make a "neighborly" appearance prior to the alleged "trial" at the National Night Out festivities held October 8th at Robinson's Jacksonville, TX church. A little sleight of hand and good free publicity courtesy of local newspaper staff writers always helps a good cause. As sure as a cat can lick its butt, the Cherokee County media does it share hand-in-hand and lockstep with county officials in whitewashing local theft of services. No news articles from the region ask the simple question: Where is the missing $150,000 in water bill collections? Who is going to be held accountable?
Nothing like having sweet deals and puff pieces written about a poor old stressed out defendant a couple of weeks before "jury selection." The fact is a Cherokee County Texas petit jury has never been and never will be summoned to hear the case of the missing $150,000. Secondly, only those with political connections within the county have the privilege of having their Defense attorneys air their side of the case in the Cherokeean Herald and Daily Progress hours before the small town jury pool is vetted.
The local East Texas newspapers and media outlets certainly will not inform the public that the case has been dismissed and/or postponed into infinity. At the direction of the Cherokee County District Attorney's office, this story of theft of public monies has been completely buried by the Cherokee County Texas media.  Where is the missing money, Mr. Prosecutor for the State of Texas? How sweet it is for a Councilman's wife.
The US Census and City Data reports Rusk, Texas government finances for 2002 alone stood at $220,000 for water utilities and operations.  See http://www.city-data.com/city/Rusk-Texas.html More than half of that has disappeared from the Rusk city hall coffers.
Jacksonville, TX:
Similarly, the Texas Municipal League (the liability insurance provider for a pool of high risk city governments) glosses over the recruitment policies of the city of Jacksonville, TX by dolling out internal awards to their small town insurance carriers. Even those like the city of Jacksonville whose law enforcement protocol is profiling 24/7. And no mention of the enormous premiums the city is paying to compensate for Civil Rights suits brought on by former police officer Larry Pugh, et al.
In an article titled "Texas Municipal League Gives Jacksonville Excellence In Public Safety Award"…for cities with less than 250,000 population, city leaders accept their award issued by their Insurance Company. Like Allstate sending you a Christmas calendar for not killing someone after driving home drunk from the bar. A way to say "Thanks for not making us pay out so much in claims this year, like we did after you hired a rapist predator to patrol your streets."
(Source: Tyler Paper, "Texas Municipal League Gives Jacksonville Excellence In Public Safety Award" November 5, 2008)
During this time period, the city of Denton, Texas also received the Municipal Excellence Award from the TML for its "going green initiatives."
Not to be out done, both the Mayor and City Manager help stop a thief on the streets of Jacksonville, according the November 19th issue of the Daily Progress. "The city manager and the mayor were driving in the 400 block of Commerce Street when they noticed a black male juvenile looking in the window of a late-model car parked…" The Jacksonville PD was notified and an arrest was made. The Mayor of Jacksonville stated "it was just a matter of being in the right place at the right time."
"The circumstances that led up to this were purely accidental. We were just minding our own business when we just happened to stumble on a burglary in progress — it was an exciting moment in time," Haberle said. "I ran as fast as I could, to the point of exhaustion, trying to catch him, and fortunately the police were able to make an arrest."
The mayor said he is "sick and tired" of crime in Jacksonville.
"I love this town; this is my home. And whether I'm the mayor or just a regular citizen of this city, I will do whatever I can to make this a better place for everybody," he said.
Everything except resign and/or call on the Texas Attorney General to investigate the rampant corruption stifling the economic potential of the region. When it comes to 'police profiling' these antics are equally preposterous. Lest our readers forget that the nocturnal activities of former Jacksonville police officer Larry Pugh, from 18 months ago, have not been fully investigated. Recruited from the Athens, Texas PD with over 30 prior complaints against him, Officer Pugh hunted down and raped women on the streets of Jacksonville. Missing complainants' remains were found scattered in the Angelina National Forest.
Before choosing which victims he would rape, Officer Pugh most certainly profiled those women. He selected the economically disadvantaged because he knew they could not afford to hire expensive attorneys and their complaints would fall on deaf ears. Officer Larry Pugh would have assumed his department supervisors and the district attorney's office would willingly turn blind eyes to any and all criminal complaints made against the City of Jacksonville. Especially by victimized women painted as street urchins and whores. Officer Pugh was charged in State court for having inappropriate "sex with an inmate." He was never charged in Cherokee County for any sex assault offense, despite nine (9) local women filing police reports and eventually a federal class action suit. And now the City of Jacksonville's sole liability insurance provider is giving awards to the city they are settling case after case for.
Profiling in the form of blaming the community's poor citizens for the illegal activities of the real perpetrators (who have influential cousins with deep pockets in the courthouse) is the Cherokee County Texas norm.
Some readers of the local newspapers preferred to be gulled by the lie that Jacksonville's police officers do not profile the citizens- that they are there "to protect and serve." The fact is they protect and serve only those on Cherokee County's safe from accountability list. The other lie is that those who actively recruited, interviewed, hired and salaried Officer Larry Pugh are no longer in city/county government. They are still in public service, waiting to draw their government pensions. They hired and insured a rapist to patrol the streets of Jacksonville, Texas. This rapist is doing almost 17 years in federal prison thanks to the work of the Department of Justice and one woman coming forward after being attacked twice. This victim filed a successful lawsuit against the city of Jacksonville after she was raped at gun point and then retaliated against for speaking to the FBI. Her harrowing story of being sexually assaulted in a cemetery, then weeks later barely escaping being kidnapped in a van can be read here:
http://cherokeecountytexas.wordpress.com/evelyn-lewis-vs-larry-pugh-the-city-of-jacksonville-tx-et-al/
That is the story the Texas Municipal League and the council of corrupt city governments wants stricken from the minds of taxpayers worried about their rising property taxes.
Source: Evelyn Lewis v. City of Jacksonville, 2007 U.S. Dist. LEXIS 34754 (E. Dist Texas 2007)
and Sandra Rene Roca, Tonya Burns, Debra A Williams, Felicia A Colbert, Della Tyler, Wanda Wilson and Felicia Mosley v . Larry Pugh, the city of Jacksonville, Texas et al, No. 6:2007cv-00081 (US Dist. Ct., E.D. Texas, Tyler Division, February 15, 2007).
Still love your city, Mayor?
Lap dog reporting of fake and asinine awards is intended to aid the current Jacksonville Texas Police Chief, the city of Jacksonville and Cherokee County in general in the ongoing effort of 'Project Got To Fool 'Em Everyday.' With the help of local news agencies, the goal of county authorities is to never be held accountable to those filing legitimate federal lawsuits against the city's police department personnel for heinous negligence, rapes and drug dealing.
Their political agenda is to manipulate the media and their readers who plausibly may be called for Federal jury duty in Cherokee and Smith counties, as the City of Jacksonville is sued out of existence. Call it premeditated and premature jury tampering.
The Texas Municipal League insures police departments and their specialty is at risk liability. Any insurance provider would have a vested interest in not having to pay out the wazoo. Especially if local jurors find city and county officials culpable for the illegal and negligent actions of its city employees. Fortunately for the TML, they have willing accomplices working in the East Texas news rooms.
Cherokee County Texas:
Cherokee County bemoans the intrusive feral swine multiplying by the hundreds in East Texas and leaving a path of destruction in their wake. Or so FEMA and other government backed insurance agencies are being told.  County Judges, local dairymen and government subsidize farmers throughout the county have written in to the local newspapers to tell of their own stories of how the filthy little beasts have ravaged their mother's flower beds. The State of Texas has agricultural extension services available to local farmers and ranchers coping with the influx of feral hog populations. However, in Cherokee County some well-intentioned dairymen and women have taken the matter in their own hands.
For example in 2004,  Jacksonville Texas dairy owner Forrest Dyess and others were charged in federal court for illegally poisoning indigenous and benign wildlife, in order to rid a fellow rancher of feral pigs running across his property. Dyess, a licensed pesticide distributor, sold powerful TEMIK brand poison to Rusk Texas dairyman David Jones, who in turned applied the chemical agent on his buddy Glenn Smith's property. The pesticide was mixed with horse feed and spread along Smith's property line and resulted in the killing of deer, buzzards and probably a bunch of squirrels (all out of season and/or illegal) and the Game Warden levying a hefty $21,000 in fines to the group.
The Forrest Dyess family dairy located in Jacksonville, TX has been the recipient of over $500,000 in federal disaster aid payments from 1995 to 2006. Cherokee County's total farm disaster compensation in the time period was $8.7 million, whereas larger Smith County to the North and Nacogdoches County to the South were both only $3.8 million each. Dairies and farms in Nacogdoches and Smith Counties outnumber Cherokee County's 10:1. Guess it helps having a cousin or three at the county seat declaring every rain event in town a "natural disaster." And someone who can sympathize when pigs are eating their carnations before the Homecoming.
Jacksonville Texas: FEMA get rich schemes may not be reported in the local media; however a few defrauders found themselves in federal court this month. Lifelong Jacksonville, TX residents Jerry Bovard, age 20, and Joe Murray, age 45, were both charged by federal prosecutors for filing false wind damage claims with FEMA, both claiming to have resided in New Orleans during Hurricane Katrina. These two unrelated alleged swindlers have never left the county, nonetheless after all the other fraud occurring right down the road, who wouldn't be tempted to follow suit?
Houston County Texas:
City of Crockett, TX Police Chief Jimmy Fisher resigned after credit card abuse indictments handed down in August 2008. Fisher had obtained credit cards in his son's (a DPS officer) name, without the latter's consent.
Anderson County Texas:
Anderson County Commissioner Pct. 3 Ronny Smith resigns after entering a guilty plea of three felony counts of misuse of government funds. Commissioner Smith took $2600 of county asphalt and topsoil to his own property; he was placed on 1 year probation and given a $1000 fine. Quite a common scene in neighboring Cherokee County, but with cousins as County and District Attorneys, the story of former County workers getting new driveways and private property maintenance goes quite literally "buried." Especially for those related to sitting Texas Court of Criminal Appeals Justice and Cherokee County Bar Association member, Charles Holcomb. Freshly stocked catfish ponds and county bulldozers maintaining private property working on the taxpayer dime is the norm for those sitting at the top (bottom?) of the East Texas political hierarchy. Smith was also accused of taking a tractor hose fitting from county equipment and using it in his garden. Palestine Texas newspapers make a bigger deal out of Commissioner Ronny Smith "borrowing indefinitely" left over county dirt and tractor parts, than Cherokee County does its constables double-dipping as drug runners, a la Randall Thompson.
Cherokee County Texas:
Similarly, former Rusk city hall employee Doris Robinson is scheduled to have jury selection begin on October 14 for her embezzlement trial. Mrs. Robinson was indicted after 18 months of postponement for allegedly stealing over $150,000 from the Rusk Water Department. Mrs. Robinson maintains her innocence and prosecutors, along with defense, are beginning to surmise an "accounting glitch," so everyone can be paid off equally and this horrid little story will go away.
Cooke County Texas:
Oak Ridge TX Police Chief Michael Todd Lacey pleaded guilty in Federal Court on September 10, 2008 to one count of extortion. Chief Lacey was apparently fond of pulling over Hispanic motorists on Highway 82 and demanding money in exchange for not issuing citations. Lacey was indicted in April 2008 and is now facing 18 months in federal prison for his extortion tactics. He wasn't raping his traffic stops on the side of road as Jacksonville TX police officer Larry Pugh did recently, but nonetheless Lacey was violating the civil rights of travelers through his gracious jurisdiction.
Kaufman County Texas:
Sunnyvale ISD Jr. High teacher Chad Michael Hutchins was sentenced to 10 years in federal prison for possession of child pornography. Hutchins was arrested at his Forney, TX home in June 2007 on similar charges stemming from his correspondences with under age girls on My Space.
Rusk Texas:
The Cherokeean Herald reports on its online March 12, 2008 issue that Rusk, TX city bookkeeper, Doris Robinson, wife of City of Jacksonville TX councilman and Mayor Pro Tem Hubert Robinson, has been indicted by  a Cherokee County TX grand jury for stealing over $150,000 from the Rusk TX water department.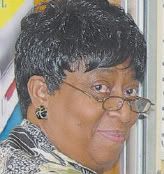 City of Rusk Texas bookkeeper Doris Robinson
Mrs. Doris Robinson worked at Rusk's City Hall located at 408 N MAIN ST as the city Permit and Billing Clerk until she was promoted to City Bookkeeper in February 2006. Prior to taking office the article cites, Doris Robinson allegedly embezzled water department monies over a 2 year period. An unnoticed theft of upwards of $150 thousand in a city with the population of 5000 citizens. The Cherokee County TX grand jury met the second week in March 2008 and Mrs. Robinson's indictment was not reported by the District Attorney's office.  The Cherokeean Herald reports it after the go-ahead from the District Attorney.
At printing The Jacksonville Daily Progress also has not printed the fact the wife of the city of Jacksonville's Mayor Pro Tem had been indicted.  Councilman Hubert Robinson's wife posted bond on Monday March 10, 2008. Mr. Robinson is an active member of the historical Sweet Union Baptist Church located in Jacksonville Texas.

Councilman Hubert Robinson, Jacksonville TX (District 1)
After one year of misdirections, it is high time a grand jury was seated that was not designed to prolong the case into the millennia. The EDITOR doubts there will ever be a costly and embarrassing embezzlement trial; Doris Robinson will no doubt be granted immunity for spending the last year busily trying to pay back any missing funds, in restitution. Isn't that always the way it always works when Cherokee County's version of Christians get caught with their hands in the taxpayers' coffers?
Alto Texas US Postmaster Herbert Michael Dominguez paid back nearly all the $27000 he stole from the post office and for his federal crime, Postmaster Dominguez gets to keep his federal pension if he successfully completes his one year probation sentence. Handed to him in late February 2008 by US District Judge Michael Schneider in Tyler, TX, because Dominguez was "such a good person who had never been in trouble before."
 So when Cherokee County's version of "dignitaries" commit federal crimes, citizens will only get a glimpse of it in the Tyler TX newspaper 100 miles away.
And it came to pass. Because the whole world is going to be reading about it here.